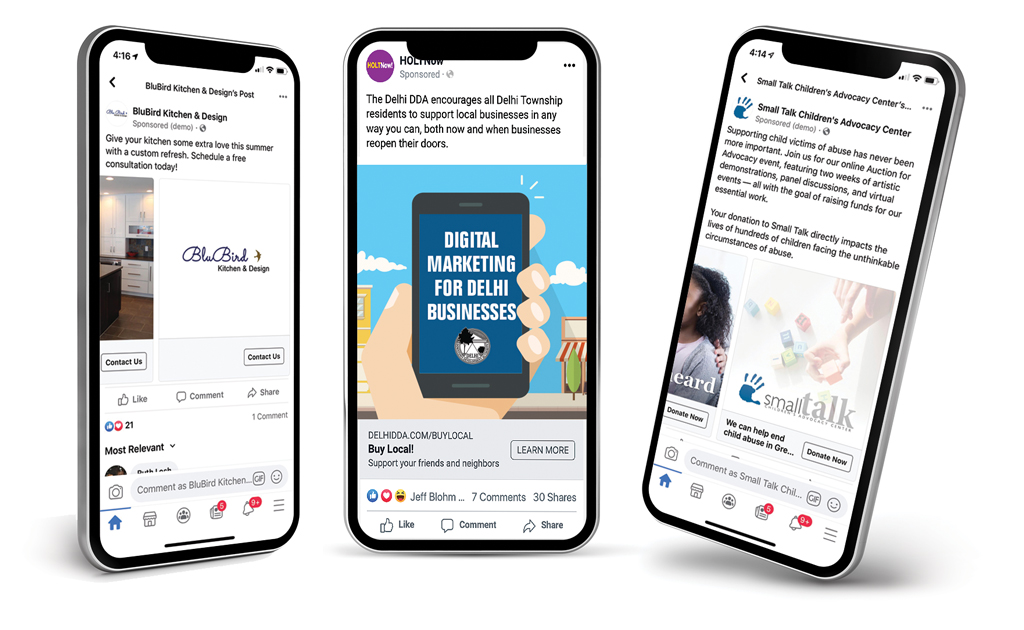 When the COVID-19 pandemic forced many businesses to close their doors last spring, many of us sprung into action providing any support we could — ordering extra takeout from local eateries, buying gift cards online, showing our support through social media. 
The Delhi Downtown Development Authority (DDA), one of BCP's MVP clients, decided to support Delhi Township businesses in a refreshing, innovative way. They partnered with BCP to provide free digital marketing services to Delhi Township businesses. 
Here's how it works.
Businesses let the Delhi DDA know that they're interested in participating in the program, and BCP reaches out to them for a discovery meeting. This allows us to get to know the business owner, ask about the current context of their business and uncover their marketing goals. BCP then provides professional strategy, ad design, copy, campaign setup, campaign management and reporting — all completely free of charge for the businesses. 
"At the DDA, we believe our hometown businesses are part of what makes Delhi Township a great place to work and live," said Howard Haas, executive director of the Delhi DDA. "This program allows businesses the opportunity to spread the word about their products and services and attract new customers."
We know—it's crazy generous, right? 
The best part is that these businesses are reaping the benefits. For the businesses that participated, free digital marketing services represent an investment in both current and future customers. The stay-at-home order has created a captive audience of digital users. The cost-effectiveness and versatility of digital marketing allow each business to get their message out into the local marketplace and transform those digital users into potential customers.
All in all, more than 80 Delhi Township businesses have taken advantage of the program. Here are two of their stories.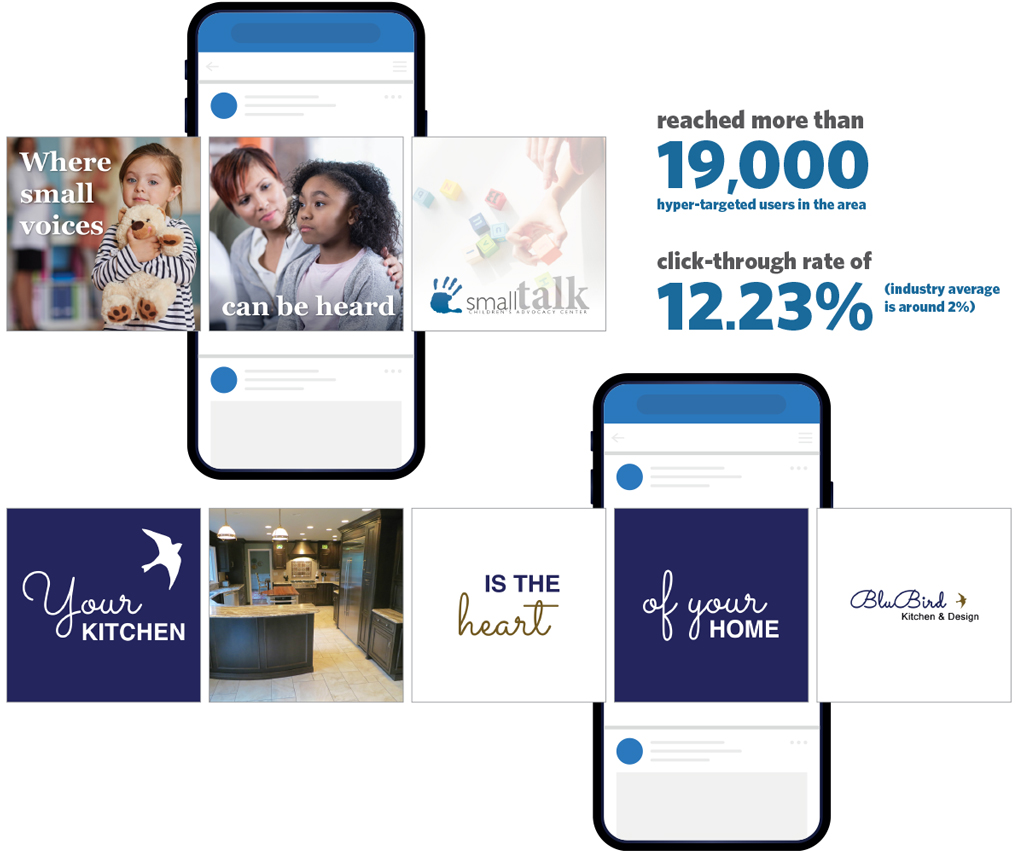 BluBird Kitchen & Design
Jennifer Sesniak, owner of BluBird Kitchen & Design on Cedar Street in Holt was one of the first businesses to opt-in to the program. BCP ran a social media ad promoting Jennifer's kitchen design services. Throughout the six week campaign, Jennifer's ads reached more than 86,000 users and led to drastic increases in her web traffic. 
"Everyone I've spoken with has been so friendly," Jennifer said. "They were great about communication and very quick with responses to my questions. I would gladly work with them again!"
Small Talk Children's Advocacy Center
This Delhi Township organization provides trauma-informed services to children in the Greater Lansing area who have faced physical or sexual abuse. In order to fund this essential work, Small Talk holds an annual fundraising event. Like many organizations, this year's event was held virtually, presenting both new opportunities and new challenges. 
Small Talk utilized the DDA's digital marketing program to help publicize the event through Facebook advertising. BCP designed a versatile and engaging ad design that could easily be broken out into three distinct ads: two that would run during the 14-day virtual event and one that would run after. The event-specific ads targeted non-donors and current donors with engaging, actionable messaging unique to the two different audiences. The post-event ad used retargeting to help reach users who had interacted with our event ads but hadn't yet made a donation. 
The results were fantastic. The three ad sets reached more than 19,000 hyper-targeted users in the Holt area, with the post-event retargeting ad receiving a link click-through rate of 12.23% (industry average is around 2%), demonstrating to us that we reached the right audience with the right message. 
"I feel like we got a lot of new eyes on our organization and considering the challenges of COVID I feel we raised quite a bit of money," said Alex Brace, executive director of Small Talk. "I loved the ad! I saw it so much and that makes me feel great about those who saw it too. Thank you and your team for putting this together for us!" 
Stay tuned for more updates on this exciting project!