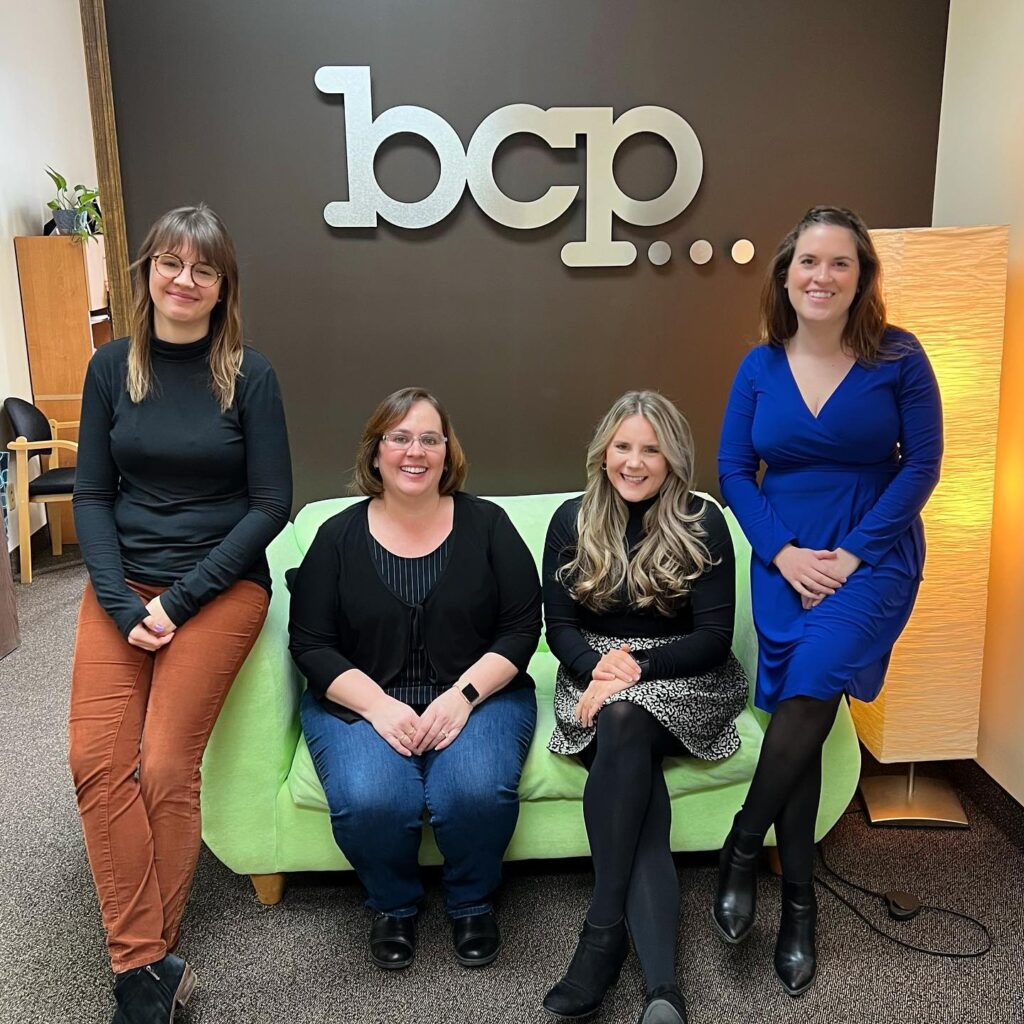 To wrap up Women's History Month, learn more about the fantastic women that make up our BCP team – Carly Aldridge, Nicole Klisch, Patty Elliott, and Sam Troutman!
What led you to your role at BCP?
C: I knew shortly after graduating from college that I wanted to end up in an agency setting at some point, and I was feeling creatively unfulfilled in the role I was in. The opening at BCP seemed to just come at the right time. When I saw it, I had a feeling it would be a great fit for me.  
N: After graduation, I was looking to get my foot in the door of the marketing world. I had someone at BCP reach out to me regarding the Account Coordinator position and decided to interview.  The rest is history, I am now a Digital Strategist focusing on social media and love being able to work with clients, different industries, and of course my talented co-workers!
P: I worked at another media company and when BCP had a job opening, another rep recommended me. I started out as a media buyer and started doing accounting, bookkeeping, and traffic management… then everything! 
S: My undergraduate degree was in public policy, and I kind of accidentally got into communications work by being assigned various tasks in my early jobs and internships. I ended up realizing it was something I wanted to pursue more, and worked as a communications specialist with the Girl Scouts for a couple of years, and then for my alma mater at MSU for almost five years. Last year I left MSU, and BCP ended up being the perfect fit!
What's your favorite part of your workday?
C: Getting to bounce ideas off the rest of the team. I love hearing what everyone's thoughts and perspectives are.
N: My favorite part of the workday is chatting with all my co-workers (Shocking, I know!). Whether that be during meetings, brainstorming for clients, or visiting each person's office.
S: Working with our BCP team! It's great to have such an awesome group of people to learn from. I also love turning over a finished project to a client – it's satisfying to see our work from beginning to end. 
P: The best part of my days are when things are running smoothly, when we're working together as a cohesive team, and we're meeting our deadlines and goals.
What are you most proud of?
C: I think I'm too indecisive to pick one thing I'm most proud of. However, any time a client comes back saying they love a design and have little or no feedback is one heck of a proud moment.
N: As cheesy as it sounds, I am most proud of the life I have built with my husband, our dog, my family, my career, etc. I am very thankful for each and every one of them.
P: Personally, I'm most proud of my kids. Professionally, I'm proud of everything that I have achieved without a college degree. 
S: I'm most proud when I'm able to see the direct way I've helped or positively impacted someone, whether that is personal or professional. 
What motivates you?
C: The satisfaction of having that proud moment of nailing something on the first try is pretty motivating. From a big picture standpoint, we are bombarded with so much content everyday, whether it's digital or printed out in front of us, I want to be able to contribute to the good side of that. I hope that everything I put out into the world checks both functionality and aesthetic boxes. 
N: I love a challenge and proving to myself I can do whatever I set my mind to. So anything that is going to make me grow and push me out of my comfort zone physically and mentally, I am all game!
P: I'm motivated to constantly be a better person and be better professionally. My loved ones, especially my husband, make me want to be the best version of myself. I also never want to let anyone around me down.
S: I'm motivated by learning and wanting to make a difference. I'm always wanting to learn as much as I can and have an impact on the world around me, whether it's small or large.
What's the best piece of advice you've ever received?
C: This isn't something someone said to me personally, but I recently finished reading The Dip by Seth Godin which is packed full of great pieces of advice. One that I'll highlight is "Winners quit all the time. They just quit the right stuff at the right time." This applies to all things big or small. It could be moving on from a design that just isn't working or quitting that job you're "comfortable" with (that's how I landed at BCP.) Life (and your career) is about finding what works for you and being awesome at it even if that means quitting from time to time.
N: The best piece of advice I have ever received is that you are not going to be everyone's cup of tea and that is ok. This one is always hard for me to swallow but as I get older, I realize more and more that not everyone is going to like you and that is ok. It is more important for me to stay true to myself and my beliefs instead of being someone I am not to please others.
P: Don't sweat the small stuff. 
S: Give yourself permission to say no. 
If you didn't work in marketing, what would you want to do? 
C: I would probably want to do some kind of environmental design. Much like marketing it impacts so much of what we do and how we do it. Whether it's the signs you see in the airport or the exhibition you're checking out in a museum, there's a lot of design considerations being put into that experience, and I think it's really cool. 
N: I always joke that I would be a stay-at-home dog mom, but if I didn't work in marketing I think I would do something in the health and wellness field like a dietitian or nutritionist.
S: If I had the skill set for it, I would want to work in the video game industry. 
P: As a child I wanted to be an elementary school teacher, but as an adult, I would want to be a baker.